2012 was a great year for cinema. A great year for dramas, comedies, horrors, Sci-Fi, etc. This is what was needed after we were left with 2011 which overall was okay at best. In 2012, we had several great films based on true stories, we had interesting documentaries, amazing blockbusters, heartfelt indies, and Oscar nominated films that were actually really good choices for once. I hope you find some great movies in this list that might be new to you as well as others that you may agree or disagree with. Either way, please let me know what you think. If there is one you thought should have made the list, ones you agreed with, etc. So without further or do, here's my list:
50. The Snowtown Murders
49. Chronicle
48. A Dangerous Method
47. Abraham Lincoln Vampire Hunter
46. Harakiri: The Death of A Samurai
45. The Campaign
44. For Love's Sake
43. The Cabin In The Woods
42. Killer Joe
41. The Hobbit: An Unexpected Journey
40. V/H/S
39. Sinister
38. Brave
37. The Grey
36. Antiviral
35. Silver Linings Playbook
34. Damsels in Distress
33. Side by Side
32. Life of Pi
31. 21 Jump Street
30. Skyfall
Before 2012 began, everyone was predicting what they try to predict with movies every year. Which films were to rule 2012. Back then, you would have been told: The Dark Knight Rises, The Hobbit: An Unexpected Journey, The Avengers, Prometheus, etc. However, no one would have expected "Skyfall" to join those rankings, but it did with gusto and flair.
"Skyfall" was easily one of the biggest surprises of 2012, especially for me. Before this, I was not sold on Daniel Craig as James Bond. Casino Royale was fine, but not great in any way and then there was Quantum of Solace. Things were different this time around and I think a lot of credit has to go to Sam Mendes and Roger Deakins for making a Bond film that stands among the best. This movie is downright beautiful! Every shot, every frame, every setup! It should win Best Cinematography at The Oscars this year, but it probably will not. Another great thing about "Skyfall": Javier Bardem. What a great villain! From his opening monologue to the climax, he was on his A-Game the entire time. We also received better performances from the rest of the cast than from the previous two films and the newcomers only add positives to the film. And I have not even gotten into the action sequences yet. Why? Because clearly they wanted to do something different this time around. They wanted to take Bond to the next level and they did to a certain level.
"Skyfall" is a step above most Bond films, but quite a few like this film a lot more than I did. Maybe this will change for me with repeat viewings, but either way, I cannot deny the quality of the craft that went into this film and as a whole, not only did I have a lot of fun at "Skyfall" but I now feel comfortable with Daniel Craig being the new James Bond and that's a big step in the right direction.
29. Beasts of the Southern Wild
Probably one of the most unique and touching features by a first time director in quite sometime. "Beasts of the Southern Wild" feels incredibly tangible and natural. These are people you could have met during Hurricane Katrina. A lot of this is because Benh Zeitlin used real locals from the Louisiana area, so many of them had actually experience Katrina. Some of the cast had never acted before, including Dwight Henry who's the father of Hushpuppy and a key element in the film.
This film rejuvenates your soul, raises your spirits, and makes you feel so alive afterwards. It's a story about courage. It's about the coming of age of a young girl in strange and difficult circumstances and always managing to keep her head above the tide. Did I mention that Quvenzhane Wallis is fantastic in this too? She is and she deserves her Oscar nomination big time.
Will this film win anything at the Oscars? Probably not, but it will win your heart as you go along with Hushpuppy on her journey through The Bathtub. You won't see a film like this any time soon.
28. Lawless
Not a lot of talk about this film in 2012, but I can safely say that if you missed it, you really missed out a great film that's a lot of fun. One of the best ensemble casts of the year. Guy Pearce and Tom Hardy really nailed it here. The whole thing is incredibly badass. A great time out at the cinema.
27. Looper
Sci-Fi awesomeness brought to you by Rian Johnson. One of the best Sci-Fi scripts in recent years. What a blast!
26. The Perks of Being A Wallflower
The perks of seeing this movie: Great early nineties nostalgia, the best use of David Bowie's "Heroes" since " Christiane F: Wir Kinder vom Bahnhof Zoo", pretty good performances all around especially from Ezra Miller, and of course the script that's one part heart warming, other part an depth look into teenage angst and the serious that some kids have to deal with growing up. This is proof that authors or writers who take their material to the big screen themselves can make a really good if not greater film that directors tackling the material for the first time.
25. The Master
Triple acting nominations and no Best Picture nomination. I'm still a bit ticked off about this.
PTA really tackled an interesting subject this time around. Apparently the story is based quite a bit on the origin of Scientology, but that is not the only focus here. In fact, the thing that stood out for me the most was Joaquin Phoenix's character.
He's a war veteran with post traumatic stress disorder who also happens to be a crazed sex addict, an alcoholic, and an overall lost cause. His condition is not taken well by society and is essentially cast aside by others. That is, until he accidentally runs into Lancaster Dodd(Played by Phillip Seymour Hoffman) who is the leader of a cult called "The Cause" and is often referred to as "The Master". Phoenix's character follows Dodd simply because he likes him and needs work, but he soon feels a little bit of sense of purpose.
The chemistry between these two characters is interesting. Phoenix is just trying to make his way through life in the ways he believes is right why Hoffman's character tries to correct his life by sucking him into his phoney, fabricated bullshit he calls "The Cause". They are both losers in their own way, yet, Lancaster Dodd believes he's high and mighty, but in actuality he's a nut just like Phoenix except that he doesn't know it. It's a bit comical really, but a great aspect of the film.
Mihai Malăimare, Jr.'s cinematography is fantastic. It suits the movie perfectly, but it's also a stand alone, gorgeous work of art within an art film. Should have been nominated for an Oscar.
Either way, "The Master" is yet another great film by PTA that should hopefully have more of a life on video than it did in the theatres.
24. The Invisible War
Did you know that thousands of soldiers in the U.S. Army are raped by fellow soldiers every year? Unfortunately, it's true, but the military high ends do not want to be accountable for anything, so they blow off each case of rape of sexual trauma and even in some cases, make a claim against the victim that their accusations are false and untrue which results in a drop in rank to complete discharge from the army. This documentary follows a several veterans who were all raped while enrolled with the army, their daily struggles, and how they are still trying to pursue justice to this day. A chilling documentary that gets up and close to a crime wave that is essentially invisible.
23. Headhunters
Earlier in the year I was lucky enough to catch this in theatres and I was not going to miss it because it was the first book from Sweden since "The Girl With The Dragon Tattoo" series that was being adapted to film. To top it all off, the producers of the Tattoo series was also behind this one, so I really had no choice. It's an intense thriller that keeps you guessing. It has a bit of a Coen Brothers feel to it, but there's something else in the mix. Plus it's very violent which suited the gritty story anyhow. In the end, conspiracy is the main dog in this cat and mouse tale and with it's unexpected great style, smart script, and relentless gore, "Headhunters" will put you on the edge.
22. Chained
I have a confession to make. Not a big David Lynch fan, though, I have not seen everything he has done, but why would I if I don't dig the stuff I have seen so far. Jennifer Lynch (David Lynch's daughter) directed a film called "Surveillance" a couple years ago and I only saw it because it was supposed to be a horror thriller. Not a big fan, but I was not terrible. Just okay. Now with "Chained" I was not planning to see it at all, that is until I heard that it was NC-17. Any films that are controversial, banned, or shocking to the core instantly end up on my list of movies to see. That and the fact that it's a horror film. So, how was "Chained"? Awesome! Suspenseful! Scary! Gory! Really all of the above wrapped around a great performance Vincent D'Onofrio and a well crafted script with twists and turns around every corner. I loved "Chained" and I hope that Jennifer can continue to make films like this in the future.
21. Seven Psychopaths
No, it's not quite as good as "In Bruges", but it's also hilarious throughout. The jokes fly one after another and the story is really neat. If you're up for a dark comedy, you should check this one out. It's got layers.
20. The Secret World of Arrietty
Studio Ghibli really knows how to create a world of imagination. No one in cinema does it better and it's essential for the world of animation. Another thing they always nail is a story with great story with great characters. "The Secret World Of Arrietty" carries on this tradition and although it's not amazing like one of Hayao Miyazaki's directed films from Ghibli, but it's still really good. It's truly criminal that this film is not nominated for Best Animated Feature and Best Song at the Oscars this year, but I guess it's true that films almost never get nominated if they are released before summer. You feel for all the characters and they all somehow relate to you or someone you know no matter how majestic or fictional they are. Another big win for Studio Ghibli that continues it's twenty-seven year long winning streak as a studio for never making a bad film. Cannot wait to see what they do next!
19. End of Watch
Best cop drama I have seen in quite some time. Incredibly gritty and violent. Not usually a fan of handheld camera work either, but it's incredibly effective here. What's also effective? All the performances. Not a bad one in the bunch. Somethings just cannot be unseen from this movie. Things come completely unexpected in the worst way, but this is the daily lives of the police in the South Central area. One of the most realistic films of 2012.
18. Lincoln
You're probably looking at the future Best Picture winner at the Oscars this year considering its twelve nominations and almost no competition in the Directing category. Plus great performances from Daniel Day Lewis and Tommy Lee Jones are sure to help with the Best Picture lock. A lot of us know about the story of Lincoln, but it has never been presented and told as well as Spielberg with this film.
17. Detachment
Ah, Tony Kaye. Well, since he made "American History X", he made a couple documentaries and an odd film and there, but "Detachment" is his return to form. It's somewhat like the "End of Watch" for teaching in it's grittiness, but it gives us an important message. Every year we are slowly becoming more and more detached from each other and from our children which has caused multiple issues over the past couple decades.
Here, Adrian Brody is a substitute teacher filling in until a permanent teacher takes over. This school is in a rough neighbourhood and it's bad reputation is notorious. As a substitute, he gets through by detaching himself from any of the students and any issues that get thrown in his face. However, it's not just the students, but he's really detached emotionally from all the problems out side of work and really anything that could effect him emotionally so he does not break down under the pressures of life. This detachment eventually works against him, but with the help of a young prostitute, he begins to reconnect with others.
That's all in the first third of the movie and I do not want to give anything else away, but it's a very tragic story that is a really concern in our society and how detachment can effect each other and bring people to their downfall. Really powerful and tragic. Great cast. One of Adrian Brody's best performances and a return to form for Tony Kaye. Welcome back, I fucking missed you!
16. Sleep Tight
Back in 2007, Jaume Balagueró and Paco Plaza made "Rec." which is still one of the best horror films I have ever seen. They then put out one of the best sequels in a long time: "Rec 2". Now in 2012, Jaume Balagueró left the "Rec." franchise to make this film. Good choice Sir, "Rec 3: Genesis" was awful.
If Hitchcock still had a pulse, he would make a film along the vicinity of "Sleep Tight". It Hitchcock with an edge. Like "Rec", the entire film takes place in an apartment building. I think Jaume Balagueró has a thing for apartment buildings, but it's okay because he manages to make it work with every film he makes. Jaume Balagueró has crafted one of the best films of the 2012 and he's quickly working his way up to becoming one of my favourite new directors."Sleep Tight" is suspenseful as hell and it will put the monster from your childhood back under your bed. Good luck sleeping tight after this one.
15. The Loved Ones
The best hardcore horror film of the year comes from down under. Put "Pretty in Pink" and "The Texas Chainsaw Massacre" together and this is what you get. Fun fact: the first horror film in a long time to remain at 98% on Rotten Tomatoes. See this immediately!
14. Paranorman
The best animated feature of 2012. I might be a bit biased here as this film is a huge ode to horror films, but it's pretty fantastic on it's own. "Rango" took home the Best Animated Feature Oscar last year. "Rango" is a tribute to western films while being a great western at the same time. I feel the same way about "Paranorman". Hopefully it has the same luck at the Oscars that "Rango" did because it more than deserves it. I have a feeling this could even creep into my top ten of 2012 with future viewings. Not one to miss.
13. Grabbers
Practically no one saw this in North America as it really only had a run through the Film Festival circuit, but it did not get a world wide release. Since no one knows about this film, I'll give you the premise: A town in Ireland is struck by an alien invasion. Through certain circumstances, they come to realize that the only way to beat the alien invasion is to get drunk because alcohol is toxic to them. That is all I knew about the film beforehand, but I was sold just on the premise alone. Trust me, search this film out. It's a laugh a minute with lots of heart in the middle of it... and aliens.
12. Ted
"Ted" is pretty much the biggest laugh you will get out of 2012. Here I thought it was going to be stupid. Now I know not to second guess a film with Seth McFarlene behind it. Just a great time at the movies. Go get a huge group of friends, sit back, and have a blast.
11. Moonrise Kingdom
I'm a big fan of Wes Anderson's filmography, but I think this might be his best. This hilarious and sweet tale surprised even my expectations after seeing it. Good things were expected as you would expect most of his films, but there were a few differences this time around. Though he had some familiar faces from previous films, Bruce Willis and Edward Norton both join the party this time around, but they're not comedy actors, so I was a bit worried. In fact, they ended up adding a sort of flavour and quirkiness to the movie that was necessary. The two kids the movie revolves around are great too and of course, can't forget Bill Murray who is awesome as always. However, it's the writing that is the strongest here and I'm glad that at least the script is getting some recognition at the Oscars this year. Wes Anderson and Roman Coppola crafted this screenplay straight from the heart and it shows.
10. Compliance
Here's a cautionary tale that is based on a real event. Absolutely horrifying. Absolutely necessary for everyone to see. It has a basic question: how far are you willing to comply with authority? You would be quick to dismiss this at first. Say you would not go as far as the characters did in this movie and that it was preposterous. I did. The most terrifying part of "Compliance" is after you blow it off for being too ridiculous to happen, you look into the true story and find out that it all really happened. The rug was officially pulled beneath my feet when I discovered this and I began to appreciate this film a lot more. But it angered me. Made my blood boil. This film grabs you like no other film from 2012. It does not feel like a film because the performances are that genuine and natural. Ann Dowd delivers a hell of a performance in this. She will more than likely be working on bigger films in the up coming years. A great feature film debut by Craig Zobel.
9. Amour
Some people probably think Michael Haneke's "Amour" seems like a dull movie filled with an elderly cast and set up as pure Oscar bait. Well, they're dead fucking wrong! Many would classify this as a Drama, but in actuality, it's more of a horror film believe it or not. I still cannot get over it. It's so dark and brutal, yet, beautiful.
Emmanuelle Riva will win Best Actress at The Oscars if Jessica Chastain does not win first. It's a captivating and painfully realistic performance that only adds more suffering to this couple's lives as they fall into decrepitude. Although not as good, I hate how no one is talking about Jean-Louis Trintignant's performance. It's not quite as good as Riva's, but still really good. Her pain is presented more in the foreground, but he is pained with the burden of taking care of his wife while everyone else panics. He's also pained by the family's pain and their constant tugging and pulling with any decisions made on his wife. He tries to hide it, but we feel his suffering. In the end he's willing to do anything for her because he loves her. I still find it amazing that both Riva and Trintignant committed to these roles. Both I find incredibly brave. They are both in their eighties and could be facing similar things in their own lives. Even if not at that moment, they have to know in the back of their minds that death is not far around the corner.
It's scary stuff and none of it is impossible. The excuse that most people remind themselves of when watching a horror a movie is a lot like the advisory on the poster for Wes Craven's Last House On The Left: "To avoid fainting, keep repeating: It's only a movie, only a movie, only a movie...". Here we do not have that luxury. We're all going face old age and death one day and there is nothing anyone can do about it.. Some will have an easier time than others, but there is no guarantee. We will all face death one day. If there's one thing the "Final Destination" series thought me, it was that you cannot cheat death. All you can do is make your last decisions count despite what others think of them.
8. The Raid: Redemption
This here has made a few top twenty lists of 2012, but I would be lying to myself if this did not make my top ten. Luckily for me, I got to see this a day in advance in a theatre packed full of an audience that was anxiously waiting for what they had been hearing was one of the best action films of the decade. It is. Though, there is not a whole lot of plot, I didn't care for a second. If you want to learn something, go watch Spielberg's "Lincoln", but if you're out blood and you want to see some incredible action sequences containing lots of bone crushing, blood spilling insanity, then accept no substitute. "The Raid: Redemption" is a power house and Iko Uwais is electricity personified.
7. Argo
Ten years ago, Ben Affleck was just starting to come into his own as an actor and was popping up in several Blockbusters, but a lot of people could not take him seriously because, well, most of the movies he appeared in where terrible(Kevin Smith being the obvious exception).
Fast forward to present day. He now has three movies in the bag with each one better than the last, but Argo without a doubt is his best feature to date. Despite knowing the outcome as it's based on a true story, you're on the edge of your seat the entire time. I'm a big fan of movies that bring in an aspect of filmmaking to both tribute classic films and utilize to tell a great story. That is why "The Artist" and "Hugo" were big hits in 2011. It's the magic of the movies on the big screen, but there is a certain magic in filmmaking that has been getting the spotlight for the past couple years. Ben Affleck certainly noticed and continued that chain with this film. This is one of the most intense and unique films based on a true story in a very very long time. Cannot wait for what Affleck has in store for us next!
6. Prometheus
Lots of hate for this film and I'm still confused why as I think it's legitimately one of the best films of 2012. I loved the slight genre switch. "Alien" was a horror film. "Aliens" was an action flick. Prometheus is more of a Sci-Fi Discovery with elements of Alien and Aliens' genres. Also: incredible visual effects, superb art direction, great actors all around, fantastic direction, and a story that finally gives you questions and does not answer most of them, but in fact, gives you even more questions by the end. WE NEED MORE OF THESE! Enough spoon feeding. Enough basic formula. Give us some credit Hollywood and let us figure out the answers for ourselves. Because of this, I took away a lot more than I expected from Prometheus.
5. The Avengers
An ambitious project that took years to make and ended up being one of the best Superhero films of all time. Ruling the Box Office and critics alike, The Avengers proved that if you have a great script and a great director behind these type of projects, it's going to deliver big time, even if tyne films leading up to it were not all great. I already knew that Joss Whedon was awesome back when Buffy was around. Now I'm glad that the world knows and that Whedon is finally getting the mass respect that he has deserved after all of these years.
4.. Zero Dark Thirty
"The Hurt Locker" was my favourite film of 2009 and I was thrilled that the Academy decided to give it the top honors. It's dug into the soldier's psyche and the effects of war while also being an intense thrill ride. I loved "The Hurt Locker" and I believe that it is still by far the best film about the Iraq War to date.
However, that was so 2009 and now Bigelow's got another war film on the block. "Zero Dark Thirty" is a war film, but it's very different. This time, we're taken behind the scenes of the decade long hunt for Osama Bin Laden by an incredibly courageous woman who never gave up. However, even though the main characters are not on the front line, you still get your fair share of intensity in between, but most of the suspenseful moments are with Maya as she struggles and puts everything on the line. Jessica Chastain has a great shot at the Best Actress Oscar this year.
My favourite aspect about this film is the fact that it honest and doesn't cater to only one side. Torture was a tactic used for years by the Americans that did not work and wasted tons of time before it was realized as a mistake and there were many more mistakes and detours to come. I loved that. It could have been cut out, but that would have been taken from the film's impact and Bigelow knew it.
Hollywood lies to us often. Usually because of money, but here it's all laid out. Even to the point that apparently the CIA is going to question Bigelow on her access to certain classified information. I'm not sure how she did it, but I appreciate this film a lot because of it. Is this film as good as "The Hurt Locker". I'm gonna say no, but it's a slight no. Then again, I've seen "The Hurt Locker" about 10 times and I have only seen this once. With repeat viewings, Bigelow's latest could surpass it and even make it further up the list this year. Great film from a master director.
3. Cloud Atlas
Oscar snubbed, completely ignored by the general public, but not forgotten by the lucky few that actually went out to see it. This movie re-defines epic. Here, The Wachowski's have literally gone for broke to make one the most ambitious films of all time. For myself and everyone else I know who saw it, this film more than worked. The score is phenomenal, all the performances are good, the editing was spectacular, but most important, it has a great unique story at it's core. It's a near masterpiece that I believe will become a classic with age once it hits the shelves and the modern audience finally gives this film a chance. "2001: A Space Odyssey" was panned by many critics when it came out. Today it's arguably considered the greatest Sci-Fi film of all time. If you have not seen Cloud Atlas yet, I beg you to give it a chance!
2. Django Unchained
When I walk into a Tarantino film, I always know I'm gonna get something good. He's never made a bad film. He's never made an okay film. They're all great, but most of them do not even come close to touching his beloved first two features. My favourite is Reservoir Dogs, followed by Pulp Fiction. Django Unchained is his best film since Pulp Fiction. I've been waiting what seems my entire life to see Quentin pump out a Western and now that he's made one, I'm glad to see that he nailed it! If you have not seen this yet, there is no reason for you to continue reading this. Getcho ass to the theatre and see this epic modern classic!
1. The Dark Knight Rises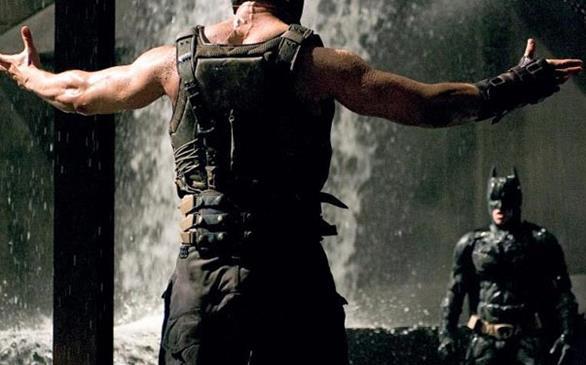 Call me crazy, but I actually liked this a little more than "The Dark Knight". Has a great villain, beautiful cinematography, fantastic score, a dynamite script, and the best performances out of the surviving characters in the trilogy(read this last bit carefully before you start attacking me with The Joker). This was defiantly the emotional chapter of the trilogy and truth be told, these are usually the movies in a trilogy that stick with me long after the credits.
I could not believe how far Nolan took this one. "The night is darkest before the dawn". Well, the dawn came and everything went from terrible to catastrophic. Much of this is thanks to Bane who is my favourite amongst the villains in Nolan's trilogy.Tom Hardy owns this role. Smart, strong, and persuasive. A paramount far beyond Batman's capabilities in the beginning. We needed a challenge. Batman needed a challenge and boy oh boy did he ever get it. The Joker hurt Batman. Bane broke him and it took everything in Bruce Wayne's soul to bring him back.
The Dark Knight is a stand alone movie for the most part and I found that after it blew up around the world, everyone forgot about Batman Begins, eventually leaving it buried beneath everyone's minds. A great aspect about "The Dark Knight Rises" is how it tag teams with "Batman Begins" and reminds us as well as Batman about the lessons he learned from the first film. "Why do we fall". It's a crucial part of this film. It's what made him Batman in the first place and it comes back to save him.
Did I mention how intense this film is? From beginning to end I was on the edge. This film never lets go You never get a breath. There's a couple brief jokes here and there, but they're quickly cast aside by grim circumstances. The only moment of catharsis in this film is during the credits. It's the way more films should be. The way most try to be and end up crashing and burning long before we give a damn. Remember the scene where Bruce Wayne climbs the pit and the bats fly out of the walls? Remember both of the hand to hand combat sequences between Batman and Bane? Any scene with the bomb? Then there is the...
ENDING! Okay, you can say that a few things in "Rises" are predictable. We all knew Miranda Tate was Talia before we even entered the theatre. Some of us had even figured out earlier on that the little child in the flashbacks was not Bane. But if it was anything else, it would have been awful. It all fit perfectly! I can understand why this would have bothered some people, but the ending with it's reveal was fantastic. Talk about a turn of events. Even if you figured it out, it brought a smile to everyone's face. Something Batman and the audiences needed after going through "The Dark Knight" and this film. Being in grim territory for this long started to turn my stomach as the tension increased more and more over the course of the last two films. It got to the point that it was almost unbearable, especially watching The Dark Knight right before seeing this in theatres. But it was just right perfect as right about when I was about to crack, the resolution came. I gotta say, I was surprised that Nolan threw in an ending on the happy side of things. It's a bit like "Good Will Hunting". You're sad to see this character go as you loved spending time with them, learning about their life, their journeys, their successes, their trials, but you know that this is the best thing for them. It's not bitter sweet, it's sweet bitter sweet, if that makes any sense.
For any nay sayers, I respect you're opinion, but realize that a lot of the so called Plot Holes a few people are talking about can be answered with: He's Batman. How did he get back to Gotham from the prison in time to stop the bomb? He's Batman. Even though Bruce Wayne fixed the Auto Pilot, how did he escape the blast radius with less than five seconds to spare? He's Batman. How did Batman fix his back and leg in the Lazarus pit? He's Batman. Of course I am generalizing, but the point I'm trying to make is: Can we all just shut up, sit down, and watch a movie? I feel that's a huge task for people nowadays. Maybe "Inception" screwed audiences over with it's "logic within layers" aspect and now everyone expects every Blockbuster to be completely logically. You're dealing with a world of fantasy. Film magic if you will. It's about time people noticed it and started appreciating more films rather than nitpicking them to death(Prometheus, Looper, Cloud Atlas, etc).
This could go on for days, but as you can see, this is my favourite film of 2012. Not by a long shot though. "Django Unchained" almost beat this one out. I would love to hold them at a tie, but I cannot do that again. So after a weeks of contemplating and trying to resolve this conundrum, "The Dark Knight Rises" took the top spot.
Hope you enjoyed my favourites of 2012. Feel free to mention any that you thought should have made it in my top 50 as well as the ones you agreed or disagreed with. Thanks for reading. Zachariah out.